Big disappointment in that I didn't win the powerball last night, so no new fifth wheel with built in washer dryer in my future.
Wife really wants a washer dryer. Her trip to the campground laundry facilities was less than satisfying.
So I'm researching washer/dryer solutions for my permanent spot in Florida and my 3001W Windjammer. I noticed while down there that some people have a washer and dryer in their shed. Big sheds require building permits, approval from management, etc. Plus they seem to get big money for them in Florida.
So I'll just throw this idea out for consideration.
First I get this small shed, it's more like a tool bin, my neighbor had one just like it down there last year without permits or approval: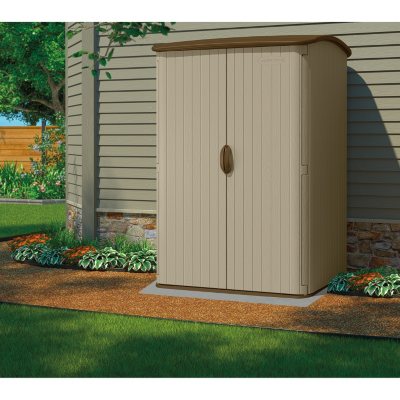 It's actually big enough to put a stack unit in. And to probably put chairs and a few other things in also.

I thought I would sit it on concrete pavers by my back bumper perhaps, closer to the sewer and electric. Then I can lash it to the bumper when I leave.

First off I plan to connect to the hot and cold low point drains to get water to the washer so I can use my windjammer water heater.

And since I'm hard piping the sewer I'll just put a tee in for the drain. And run a heavy duty cord from the 20 amp in the pedestal to power them.

Option 1 would be to just spend a bunch of money and get an all in one vented splendide 110v, this leaves more room in the shed for other stuff.

Option 2 is to find a 110V stack unit which would have more capacity. Maybe even used.

Option 3 is to get a stack unit 110v with a gas dryer and run it off of my propane connection on the side of my trailer with a Y. I'd unplug the propane connector when not in use and store it in the shed probably, or maybe just cover the end and lay it under the trailer. We also use the propane connector for the grill.

I've also thought about sitting the shed on the patio between my doors because it's closer to the low point drains (and gas if I use a gas dryer) and I have power right there, but really no way to lash it down there when I leave. It would be a neat installation though since I can go directly under the trailer to get to hot and cold water and sewer.

Just looking for thoughts from people who may have done something similar or have some knowledge in this stuff.

__________________