Quote:
Originally Posted by
CombatYoga
We will be using this RV for almost all dry camping. We race off-road (enduros and hare scrambles primarily). No hookups - all boondocking/dry camping.
I just needed an excuse to replace these crappy batteries with AGM's. I boated for many years and the AGM's are absolutely worth the price. Would like to at least get 1 season out of these stock batteries though!

Right now my converter/charger is plugged into a 110v outlet in my garage. I did have an electrician install 30 amp service at the house, and once I step down the 50 amp plug to a 30 amp with an adapter, I'll use that.
CY
1. We have the same chassis I think so you prolly have the same crappy dual purpose wet cells I have which are group24 wetcells giving 75 amp hours each and 75amp hours total before you are below the magic 50% level.
2. Since you boondock...suggest that before you replace your batts...you get a handle on your normal daily loads with a true battery monitor like the Victron or Trimetric which you'll need anyway once you get new batts.
Once you know your daily average amp hours used...you can buy batts at twice that amphour rating to insure you can meet your daily needs without degrading your batts.
3. I've had AGMS on my boat (lived aboard mostly at anchor)and while they are wonderful in that they don't require maintenance...it sure hard for me to justify 2-3 times the price per amp hour and fewer cycles unless you need a specific attribute. But if cost is no object... MOST are also dual purpose and not true deep cycle so be careful on that as most will also say deep cycle on the label (while providing cranking amp data!) Suggest that you also might want to consider going with a pair or two of 6V's since they are all deep cycle and provide around 210amp hours/pr. @12V. Trojan makes good ones in both wet and AGM.
4. Finally... the house 30amp
120Volt
line install for an RV might be a bit different than your house electrician usually sees. This pix might insure he gets it right!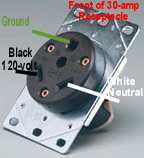 __________________