Moved our Shasta Oasis 18BH from the somewhat inaccessible side yard to the very accessible front yard.
Wanted to put a lock on the coupler to slow down or possibly change the mind of someone else deciding to hookup, too.
Very happy with the Lowes purchase of the Reese Professional Universal Coupler Lock
Shop Reese Professional Universal Coupler Lock at Lowes.com
It fit the rolled tongue style of the Oasis coupler very well. (It also fits other types.)
The two pieces of the unit come apart - which is not readily seen from the illustration - so it it easy to install. The lip of the tongue goes in that lower notch in the picture.
The components are cast steel, not plastic. Two keys came with it with it and replacement keys are available from Reese. Stylish yellow color, too.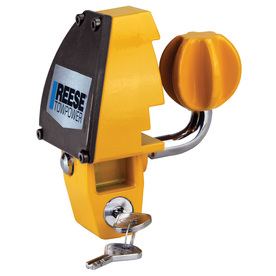 __________________