Quote:
Originally Posted by
wbillar
We love our 2306 with Murphy bed and couch. Put topper of 2" honeycomb foam and 2" memory foam and it's at least as comfortable as bed at home. Every summer we spend about 3 months in the unit. Only down side of Murphy bed is dropping something under the head of the bed. Real hassle to get stuff out if you leave it on end shelf and it falls down by front of trailer. Eyeglasses are a real nightmare
. Once you can see them with a light, usually have to move the mattress cack and swat at them with flyswater, wooden spoon, etc and keep the bed from pivoting up with your head going down as the bed tries to flip up. We've managed to recover everything that has fallen under the bed. A round camp lantern that rolled everywhere was a paticular challenge.

As I said we love the unit. My wife's main complaint is we haven't found a good reading light. The bed has a shelf on each side with a Cabnet directly above. It's hard to direct light to where it's needed (hense the lantern problem which didn't work well).
Get yourself one of these: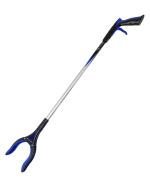 __________________



__________________
1988 Coleman Sequoia - popup (1987-2009) - outlasted 3 Dodge Grand Caravans!
2012 Roo19 - hybrid (2012-2015)
2016 Mini Lite 2503S - tt (2015 - ???)
2011 Traverse LT, 3.6L, FWD
2009 Silverado 1500 Ext Cab, 5.3L, 4x4, 3.73
2016 Silverado 2500HD Dbl Cab, 6.0L 4x4, 4.10