Good Afternoon everyone,
I picked up my trailer from the dealer on Wednesday afternoon after having the grey and black tank mounts re-welded. Just waiting on replacement paneling to come from Forest River to make the final repairs. The jackknife sofa hinges are gouging the paneling on the cabinet and front wall of the camper. My estimate, the mounts were "stretched" to fit the storage cabinet.
Thursday morning my friend, his son, and my 2 boys and I headed to Michigan International Speedway for the NASCAR weekend. We camped in Brookfest Acres just outside of Turn 4. The entrance to the track was a brief 2 minute walk from our site.
We only had tickets for the Friday ARCA, and Saturday Nationwide races. Ran out of funds for the big race on Sunday. Good thing too as the Sunday race was delayed by 2 hours due to rain and I had a softball game that night.
Temps in the upper 80's to mid 90's. No electric or water on site. I filled my fresh tank at home and brought my dad's generator for battery charging purposes. Accidentally turned the fan control from fan high to A/C Low and popped the circuit breaker on the generator. This ended up blowing something in the generator as it would only produce 64VAC afterwards. Electrical systems in the camper are fine. My neighbor was gracious enough to let me hook up to his generator to charge. I tested the A/C while on his gen and it functioned fine.
All systems (that we used) worked well. Sleeping was as comfortable as could be expected with the elevated temps and restriction of turning the generators off after midnight.
I can't wait to head to Algonac State Park in 11 days for the 4th of July week, June 29-July 5th.
Here's the site just after we set up. The black Ram in the background is my buddies. We just didn't have enough room in my Blazer for 5 people. Plus it was nice to have just in case something happened to my truck.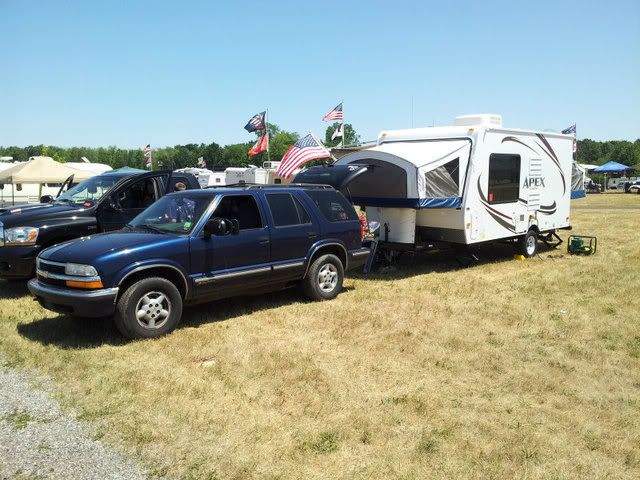 Here's the short walk from our site to the Turn 4 entrance.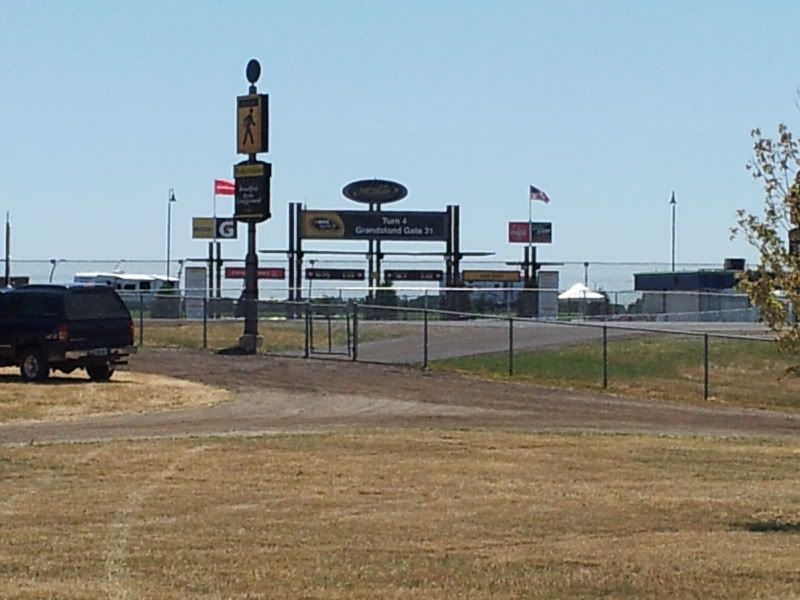 __________________