In addition to all my other toys, I have an old 2001 Arctic-Cat 300 4x4 ATV. I used to ride it for fun, but now he is relegated to work only. I will tell you what... This little ATV is the working-est unit you ever saw. It has a 3 speed reduction transfer case, and in super-low, it will amaze you.
A few years ago, I found a small box-blade that was originally set up for a cub-cadet mower. With some major re-engineering, I adapted it to the ATV, and have used it to smooth ground, plow snow, and drag out the gravel driveways at our lake lots.
The only problem with it was that he little side boards were really flimsy and I ripped them off the first time I used it, and due to modifying it to fit, the lift lever is way back and out of reach I have to use a rope to pull it to lift the blade. If you get enough weight on it to really cut good (usually a couple cinder blocks), its nearly impossible to lift the blade one handed.
So this last week, we addressed both those problems. My buddy's Mike's (NoHandle) son (who
loves
to fab stuff) made me up some new, beefy side plated and welded them on.
I figured while I had it over there and the welder was out, I would have them take care of the lifting issue. I bought a cheap Harbor-Freight 2500 pound winch and mounting plate, and we installed it on the back to lift the blade.
We'll give it a good workout this weekend. Spring rains have made a mess of the lake driveways.
My next project with it (maybe in the fall after the cabin is done) will be to make a hydraulic loader for it. I saw this on the internet, and I can copy it pretty easily.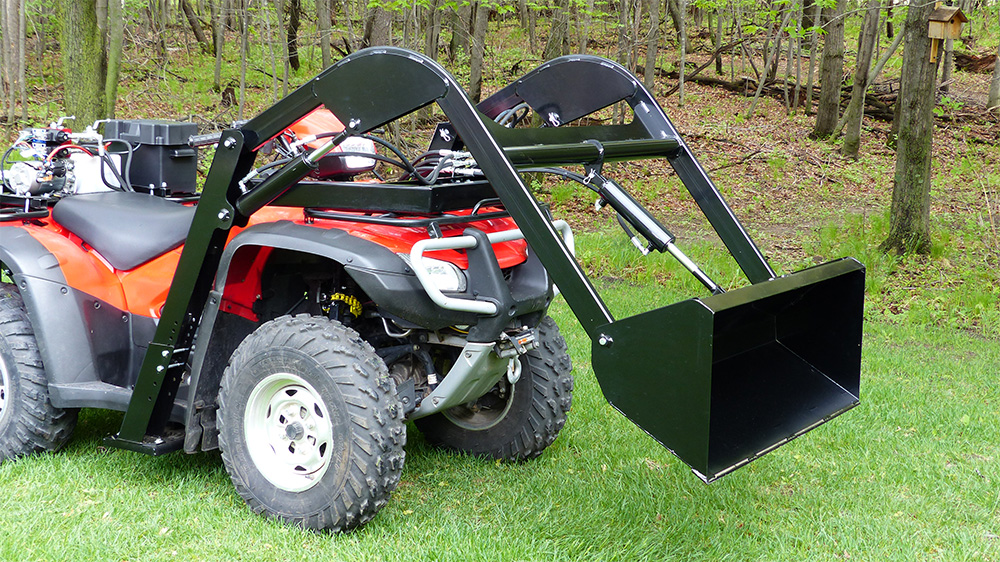 Of course, I will document every step of the way when I get going on it.
Tim